Nashua Asset Division Attorneys
Representing the Financial Interests of Nashua Families
O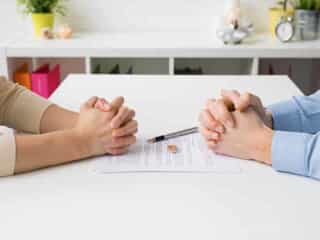 ne of the most hotly debated issues in a divorce involves the division of marital assets. For many divorces, property division can be relatively straight forward—simply involving a family residence, some cars, and a few financial accounts. However, some cases involve more complex issues such as the division of disability benefits, investment accounts, and ownership interests in a small business.
If you have concerns about protecting your property rights during the asset division phase of your divorce, you should consult a Nashua asset division attorney for legal representation. At Bernazzani Law, our team of dedicated lawyers has the experience and sophisticated understanding of New Hampshire divorce law to help ensure your legal rights and financial interests are not overlooked during your divorce.
Call Bernazzani Law at (603) 261-2214 for more information about asset division and divorce.
Comprehensive Asset Division Counsel and Advocacy
Under New Hampshire law, marital assets are equitably distributed between the parties upon divorce. Marital assets include any property acquired while the parties were married. Assets that a party acquires before the marriage or after divorce are considered to be their separate, nonmarital property and is not subject to equitable distribution.
An "equitable distribution" of assets does not necessarily mean that the parties are entitled to exactly half of the marital assets. Instead, equitable distribution means that courts will divide marital assets in a just and fair manner accounting for the specific circumstances of each case.
At Bernazzani Law, our Nashua asset division lawyers can help you with the following issues:
Retirement accounts and pensions
Financial accounts
Investment accounts and business interests
Disability benefits
Claiming assets as nonmarital property
Claiming a separate interest in marital property
Call Bernazzani Law to Consult Our Nashua Asset Division Lawyers Today
Whether you and your former spouse have accumulated a modest amount of wealth or have developed a valuable estate, you can benefit from the professional legal services of a Nashua asset division attorney to help protect your property rights. At Bernazzani Law, we are committed to guiding you through each stage of the divorce process, so you have the necessary information to make a sound and informed opinion about your family's future. You will have the advantage of being represented by a skilled attorney who has you and your family's best interests at heart.
To set up a free consultation about the merits of your case with one of our attorneys, call Bernazzani Law at (603) 261-2214 or contact us online today.
- Denise J.

- Marilyn R.

- Britney G.

- Darren R.

- Keith H.
Reasonability

Some attorneys portray themselves as bulldogs. However, being overly aggressive is not always effective. When a fight is necessary, we fight. But when it is clear that a negotiated or mediated solution can yield better results — and the client wants this — we do not hesitate to follow the more fruitful path.

Advocacy

This is another way of saying "we've got your back." Retain our firm, and we will advocate for you in the strongest possible manner. We are dedicated to helping you and your family.

Flexibility

Our training and experience as mediators, negotiators and litigators give us a full suite of options to bring to your legal problem. Whether a court fight or a mutually agreeable solution is in your best interest, we are flexible enough to serve you. We make ourselves available by email, phone and through our helpful and competent staff.

Empathy

We listen to our clients, and we relate to their problems — always providing clients, and their concerns, the time and attention required. We believe that understanding our clients is vital to helping them resolve those problems.